At Home With Founders Of BEAR Ltd, Saasha Burns & Sammy Leetham
Global finds, storytelling designs and local creations have turned this stylish entrepreneurial duo's Byron Bay house into their dream home.
Saasha Burns and Sammy Leetham, the husband and wife duo and founders of Australian wellness brand, BEAR, and creative studio, BEAR Originals, purchased the Byron Bay property back in August 2017 after falling instantly in love with its tranquil location, renovation potential and impressive palm tree collection.
[responsive imageid='32757′ size1='0′ size2='641′ size3='1024′]
[/responsive]
[responsive imageid='32760′ size1='0′ size2='641′ size3='1024′]
[/responsive]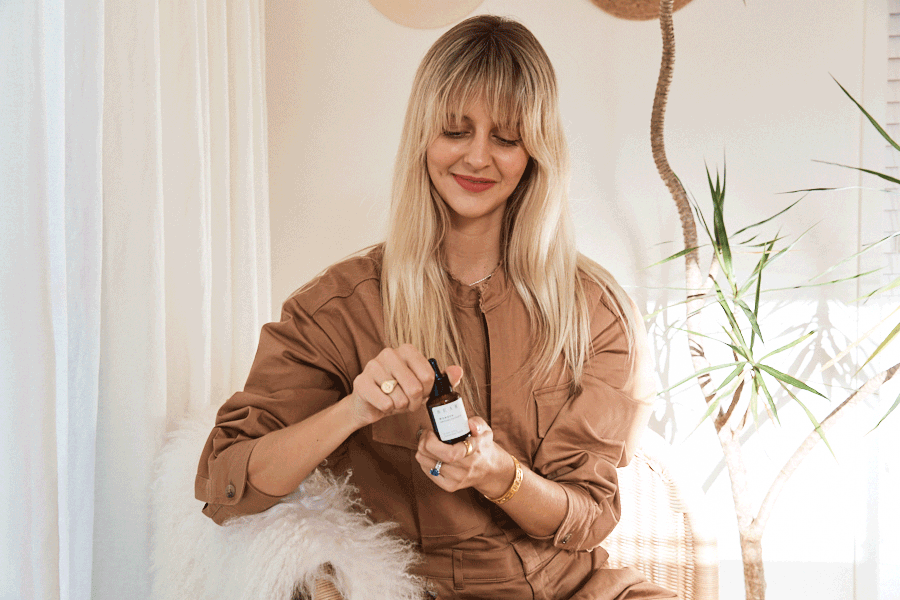 [responsive imageid='32761′ size1='0′ size2='641′ size3='1024′]
[/responsive]
Burns and Leetham fittingly describe the three-bedroom, two-bathroom Queenslander as "warm, coastal and minimalist" — and by adding "idyllic" into the mix it sums up the property to a tee. The house boasts a picture-perfect wrap-around verandah, picturesque views of the Byron hinterland and an interior so dreamy it would send any interior-lover into an Instagramming frenzy.
"We want our home to be warm and inviting, where you can relax on the linen couch with a coffee or gather around our round table for dinner and talk late into the night."
[responsive imageid='32759′ size1='0′ size2='641′ size3='1024′]
[/responsive]
[responsive imageid='32763′ size1='0′ size2='641′ size3='1024′]
[/responsive]
After moving into the property in December 2017, Burns and Leetham carried out a series of renovations to make it their own. The pair painted the exterior (which was previously yellow), interior and hardwood floors all white; completed a kitchen renovation; modernised the window finishes; planted new native and fruit trees; and landscaped the backyard to feature a large decking in a bid to create a perfect alfresco entertaining space.
"We loved the potential of the property, the location and the palm trees — it's a Queenslander with a large veranda and views of the Byron Bay hinterland."
[responsive imageid='35376′ size1='0′ size2='641′ size3='1024′]
[/responsive]
Post renovation, the fresh new space was then filled with beautifully designed pieces from local brands and artists, vintage finds and keepsakes from their extensive global travels. "We love mixing vintage finds, such as our Italian travertine coffee table and Turkish kilim, with modern Australian-made pieces like our original 'Burgundy' artwork by Bobby Clark," says Burns. "We value quality pieces that tell a story that we have found locally on the coast or collected on our travels — each piece serves a purpose and compliments our minimalist style."
The interior was inspired by mid-century architecture, their favourite destinations (think Bali, Marrakech Paris and Palm Springs), and a vision to create a space that felt warm and inviting. With the use of muted tones, natural materials and a considered approached to decorating, it's safe to say their design mission was a complete success.
"We are inspired by mid-century architecture and design, and find inspiration in beautifully designed objects that tell a story."
[responsive imageid='35377′ size1='0′ size2='641′ size3='1024′]
[/responsive]
Having first met in Byron Bay over a decade ago in 2007, the popular NSW coastal hotspot has always held a special place in the hearts of Melbourne-born couple — and after many return visits, they are now delighted to call it home. "Having both grown up in Melbourne, we loved coming up to Byron and enjoying the beach culture and a slower, more conscious way of life," explains Burns. "There's such an incredible creative and entrepreneurial community here and we are surrounded by nature — it's the perfect base for our two businesses and we love the sense of freedom and clarity of living outside of a city."
Not only is this space where the successful duo call home, but it also acts as BEAR HQ during the day. With a MCM House dining table as a desk, a post card-like hinterland view and endless flows of natural light and fresh air, we just have one last question — how can we submit our CV for the chance to work from one of our all-time favourite spaces?
[responsive imageid='35378′ size1='0′ size2='641′ size3='1024′]
[/responsive]
This article originally appeared in the Winter 2019 issue of Gritty Pretty Magazine.